A perfect card to spoil your Mum with or it could be easily adapted for a special someone or birthday.
Video
What you need
Card A4 size – 3 colours
Double sided tape or glue stick
Foam mounting tape
Scissors
Scoring bone
Button
Ruler
String 45 cm long
Pearls
Directions
1

Cut the 3 cards to the measurements shown here. Fold the largest card in half. Remember to score it as this makes the fold neater.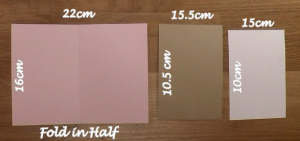 2
Follow along with the video, placing the double sided tape as shown. Remember to stick the string ends to the back of the white small card before securing this card onto the brown medium sized card.
3

Stick the medium sized brown card onto the large pink card. Write or print a message for a very small card /tag. Punch a hole in the tag.
4

Cut the string in the centre and feed the tag through it and then through a large button on one side.Followed by threading the other end of the string through the button too.  See video.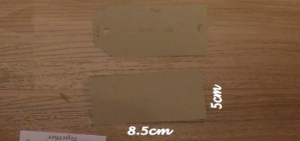 5

Feed the button through the string. Add double sided tape to the back of the button and the card to secure. Remember mums are like buttons they hold everything together.
Cre8tive Community