Free Olympic Memory Game
Perfect game for family, school activity or any Olympic themed celebration.
18 pairs = 36 cards
(Each Card size 3″ x 4″)
Video
What you need:
6 Pieces of Card or Wrapping Paper
Laminate sheet
Glue
Scissors
Coin or Cutting tool
Directions
1

Print Olympic Pictures from Website
If Printing onto A4 Card – Decorative wrapping Paper can be used for backing.
If Printing onto A4 paper – Pictures need to be stuck onto card for backing, this is to reinforce the cards.
Pictures can be coloured in drawing on clothes onto the athletes or can be left blank.
2
Cut out each picture along the dotted line, then glue onto backing paper or card – make sure that all cards remain the same size.
3
Round the corners of the picture with a coin or through using a cutter.
4
Laminate each picture to protect the cards during playing and then round corners to prevent sharp edges
Rules for Memory Game
1. Mix up the Cards
2. Lay them in rows, face down.
3. Turn over any two cards.
4. If the two cards match, keep them.
5. If they don't match, turn them back over.
6. Try to remember what was on each card and where it was.
7. Watch and remember during the other player's turn.
8. The game is over when all the cards have been matched.
9. The player with the most matches wins.
You can make a box to hold the cards follow the link below. Same design and instructions just smaller sizing.
Apply these dimensions: 7(1/2)" x  4(1/2)"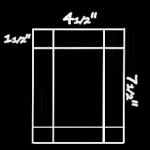 For both the box and the lid.
Cre8tive Community